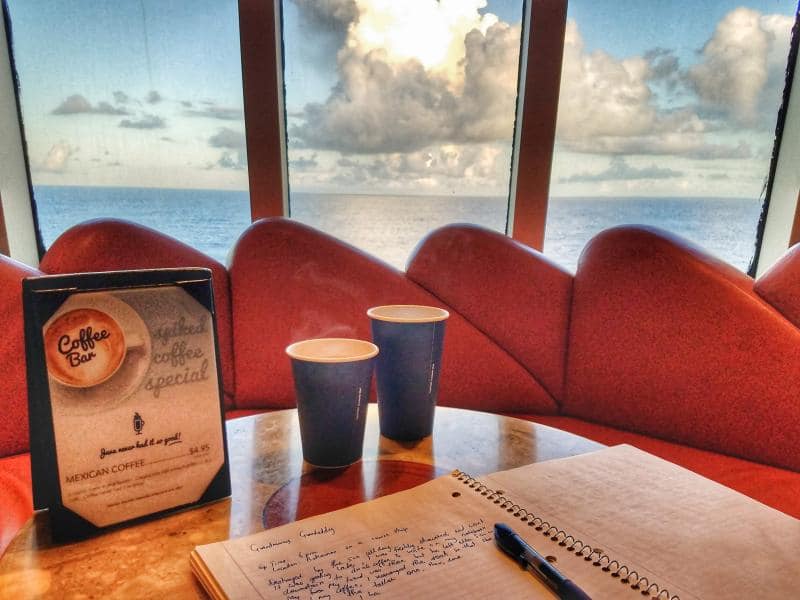 Time: 6 pm
Location: On a cruise ship
After a long day at the beach, I freshly showered and headed downstairs to the coffee bar to sit back, enjoy the view, and write on my notebook.
As I arrived my friend who had been there earlier decided he was going to head up. I was somewhat hoping he'd stick around longer. I went up to the bar to order a large cup of coffee, had small talk with the lady behind the counter who was starting to get used to me.
I got my coffee and rearranged the seating because the sofa was too low. I had a great view of the open ocean. An older lady on my right who wore a bright patterned shirt commented,
"That's because that chair is higher right?"
"Yeah"
"I've been watching people move that chair around all day. Now, are you writing? doing homework?"
"No, I'm writing on my journal but it's not in English. It's in my native language."
"Oh, what is that?" I knew she'd ask. I purposely didn't reveal the language.
The conversation then transitioned to the topic of different languages. After about 5 minutes, a serious-looking man sitting across from her said something in a gruff voice. I didn't hear what he said, it didn't sound English. I looked at him, he had a decently long white beard, white hair, tiny diamond studded earrings. You can tell he's had a lot of birthdays but he also somehow still looked strong. He said something again, it sounded German. Then finally I heard something I recognized, "He's trying to write. Leave him alone".
She was silent. I butted in, "It's ok, this is an interesting conversation." I initially thought it was because he didn't want her to share too much personal information. Before he interrupted she was talking about meeting her long lost brother who she was meeting for the first time in 69 years.
The conversation continued. About families and then to traveling. Every now and then she'd include the husband in her stories. When the traveling stories went to Japan was when he started joining in. They were teachers in Japan in the 90's. They had several stories to share, some I thought were quite funny. They've been to countries all over the world, different continents, and every state in the US except for Alaska.
Now it was the man who was doing most of the reminiscing. I was fascinated, he had lived an interesting life. I just listened apart from the occasional laugh or short comment to encourage them to keep talking. Then it was time for them to leave, I stood up as I shook hands and introduced myself. At this point, both the man and I were now standing. Instead of them leaving right away, somehow we ended up talking about South America and Canada for a good 5 minutes before the second goodbye.
The man shook my hand as he said, "Thank you. That was great."
"No thank you, that was a really interesting conversation." I meant every word of it.
As he grabbed their empty coffee cups and started walking off to dispose them, I shook the old lady's hands and asked her to remind me her name as I am not good in remembering names.
"We have kids and grand kids. You can call us grandmommy and granddaddy. I'm grandmommy and he's granddaddy. That works perfectly fine and a lot easier to remember." she smiled.
The whole interaction was about 30 minutes. I secretly hoped to run into them again before the trip ended in 2 days.